Lac et aqueduc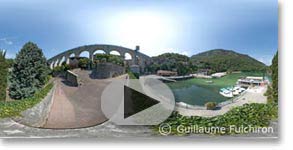 Ouvrir panorama Flash / Open Flash panorama

Voir en plein écran / see in fullscreen
CLIQUEZ ICI / CLICK HERE (1,4 Mb)

---
Village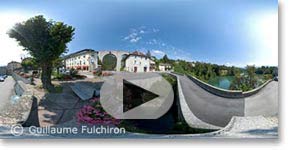 Ouvrir panorama Flash / Open Flash panorama

Voir en plein écran / see in fullscreen
CLIQUEZ ICI / CLICK HERE (2,1 Mb)


Le village de Saint-Nazaire-en-Royans (498 habitants), anciennement fortifié, s'élève en amphithéâtre du pont de la Bourne jusqu'aux vestiges de la tour Delphinale. Un aqueduc construit en 1876 traverse le village du haut de ses 35m sur 235m de long. L'eau est captée à Saint Jean en Royans et permet l'irrigation de la plaine de Valence. On peut visiter l'aqueduc et monter au sommet par un ascenseur panoramique afin de profiter d'une très belle vue sur le lac et le Vercors.
Au pied de l'aqueduc on peut visiter les grottes préhistoriques de Thaïs où les hommes s'installèrent à la fin de l'ère glaciaire. Il est aussi possible d'embarquer sur un bateau à roue pour une croisière au milieu d'une des principales zones ornithologiques de la région Rhône-Alpes.
The village of Saint-Nazaire-in-Royans (498 inhabitants), an ancient strengthened village, rises from the bridge of Bourne to the vestiges of the Delphinale tower. An aqueduct builds in 1876 crosses the village top of its 35m hight on 235m length. Water is collected in Saint Jean in Royans and allows the irrigation of the plain of Valence. One can visit the aqueduct and go up at the top by a panoramic elevator in order to benefit from a very beautiful sight on the lake and Vercors.
Down the aqueduct one can visit the prehistoric Thais caves where humans settled at the end of the glacial era. It is also possible to embark on a paddle boat for a cruising in the middle of one of the principal ornithological zones of the Rhone-Alps area.
---
Plus d'infos / more infos :
Commune :
http://www.saint-nazaire-en-royans.com/
Géologie :
http://www.geol-alp.com/h_vercors/lieux_vercors/StNazaireR.html
Design and panography by Guillaume Fulchiron