Vue générale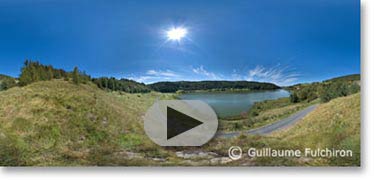 Ouvrir panorama / Open panorama

Photo : août 2007

---
La plage


Ouvrir panorama / Open panorama

Photo : août 2007


Le village de Coucouron est classé Station verte ; la charte de qualité de la commune prévoit l'accueil des touristes dans un environnement préservé. Le décors est planté. Son lac situé à quelques centaines de mètres en contre bas du village est un véritable havre de paix. Camping-cars, pêcheurs, joueurs de pétanque et un snack connu des guides touristiques se reflètent à l'unisson dans l'eau clair.
Voir aussi le
lac d'Issarlès
, le
lac de Saint Martial
, le
lac de Devesset
, la
cascade du Ray Pic
ou bien
Vallon Pont d'Arc dans les Gorges de l'Ardèche
.
The village of Coucouron is classified Green Station ; the quality charter of the commune envisages the reception of tourists in a preserved environment. Its lake located at a few hundred meters from the village is a true haven of peace. Motor homes, fishermen, bowls players and a known snack bar of the tourist guides are reflected in unison in clear water.

See also the Issarles lake, Saint Martial lake, Devesset lake or Ray Pic waterfall and Vallon Pont d'Arc in the Ardèche Gorges..
---
Plus d'infos / more infos :
Commune
:
http://www.coucouron.com/
Pêche :
La fédération départementale de pêche
Videos
:
web tv de l'Ardêche, canton de Coucouron
Design and panography by Guillaume Fulchiron